Research and Policy
EBO political monitors
Issued weekly, giving a summary of the key political events inside the country, including a synopsis of parliamentary questions: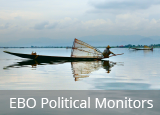 EBO briefing papers
Issued from time to time to update the international community on key issues relating to Burma.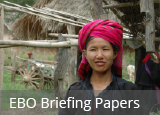 research papers
Research papers are relevant papers, articles, or press releases issued by other organisations.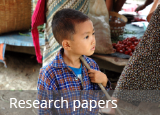 EBO research & policy activities
Internationally, EBO has been successful in raising awareness of the complex situation in Myanmar. As with all areas of EBO activities, EBO has actively encouraged the participation of formerly disenfranchised Burmese groups in international policy. EBO has facilitated the participation of Burmese women, youth, and ethnic groups and religious minorities in international policy forums. The inclusion of these groups has deepened and broadened the policies of the international community, as well as changing perceptions. The ethnic nationalities are now seen by the international community as equal partners in political and constitutional reform and international policies better reflect their needs and aspirations.
EBO activities to mobilise international support are undertaken through policy development and strategic planning. EBO has helped forge an international consensus to maintain political pressure on the Burmese military regime while concurrently exploring alternate strategies to promote a transition and to provide more humanitarian aid to an increasingly vulnerable population. EBO also aims to ensure that concerns and aspirations of individuals and civil society groups working inside Myanmar towards democratic reforms are disseminated to the international community without risking their personal or professional security.
EBO disseminates information on developments within Myanmar to governments and decision-makers, parliamentarians, political groups and parties, and NGOs. EBO also briefs governments on particular topics as requested. 
Myanmar's problems in terms of ongoing conflict in ethnic areas, lack of social infrastructure (such as health and education) and increasing poverty have not only had an impact inside Myanmar, but also across its borders in Thailand, China, India and Bangladesh. These unresolved issues raise concerns for regional stability and EBO has focussed on briefing neighbouring countries to create a common perception of the situation and to appeal to the self interests of the neighbouring countries.
EBO has also participated in and funded numerous successful international meetings and conferences which have deepened the understanding of the international community on Myanmar issues. These conferences also provide opportunities for Burmese to interact with their international counterparts through lectures, seminars and conferences and to share understanding and expertise. 
EBO has also since the very beginning supported and funded a number of international advocacy delegation visits from Burmese political and civil society groups.